5 ACIT Students & Future Health Professionals Earn Regional Medals
HOSA Club Members are Recognized for Their Achievements
Students from HOSA club competed alongside 35 to 40 schools at the HOSA regional competition, held on February 4, 2023, in Cumberland County Technical Education Center.
Health Occupations Students of America, HOSA, provides students studying dental and medical fields to compete, gain experience, and earn scholarships. A nationally recognized student organization backed by the U.S. Department of Education and the Health Science Education Division of ACTE. This recent competition presented medals to the five ACIT students who placed. Supporting and instructing them were Gabriele Coslop and Jessica Crompton from the Dental Academy.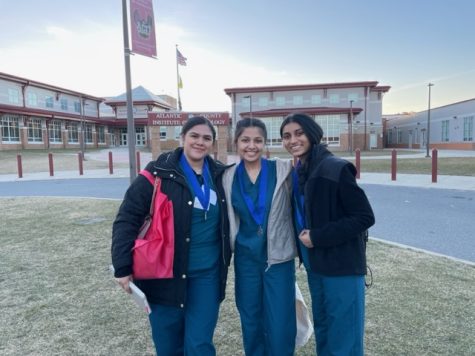 "HOSA offers a variety of skills that they can actually do during these competitions…they can show the knowledge they've learned while they've been here at ACIT," said Ms.Crompton, the co-HOSA advisor and Dental instructor at ACIT.
The students arrived at the competition, held in Vineland, with anticipation and mixed expectations.
"I think, in fact, it exceeded my expectations because before the competition I was very nervous, I thought it would be a lot more intimidating, but it was a lot more relaxed and it wasn't all about the competition because we had other activities and stuff too. So it was actually really good," mentioned Ishita Bhakta, 8th place medal winner in Medical Terminology.
"We didn't really have any expectations, we were just scared, we just went in and were like, 'what's going to happen, I don't think we're going to win,'" added first place winners in CPR and First Aid Sirin Baniya and Krisha Patel.
A better look inside and the atmosphere of the competition showed the competitors had time to gather their thoughts and get ready, before they were presented their challenges. Inside Cumberland County High School, the various school contenders were waiting as well.
"…We were all put in like a seating hall, and then they tell you to go to a specific room number… and then it's locked and you perform whatever scenario they give…we had two judges and a person as an adult and we had a baby infant and we just started," said Sirin Baniya who competed with her partner Krisha Patel.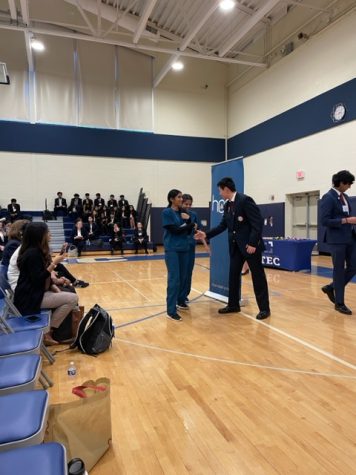 The students were presented the competition before but some had never participated in it until this year. It had been held online for the past two years due to the COVID pandemic and only returned to in-person this year.

"I went to the competition because of the things I've heard and it was my first time too. So I was really excited for it, and I took Pathophysiology because of how interesting it is," said 6th place medalist in Pathophysiology Maritza Ramirez Martinez.

Bhakta added, "I did it last year as well, and last year it was virtual because of COVID…I always heard good things about it, it's a really fun experience getting to meet all these people, because there was hundreds of people at competition, and you see all these teachers, and professionals, and students. It's a really great experience and I wanted to get that feel of the in-person competition, so I decided to do it this year as well."

Hosa Club Members Excel at Regional Competition

After the event concluded, the winners, Sirin Baniya, Krisha Patel, Joleth Chavez Ortiz, Maritza Ramirez Martinez, and Ishita Bhakta were each awarded medals for placing within the upper eight slots of their respective categories.

"We studied a lot. We stayed after school every Wednesdays, Thursdays, Tuesdays we stayed…We had a lot of compliments on our advisors Ms.Crompton and Mrs.Coslop, they were really there, they provided us with all the skills, they helped us out," Baniya said, referring to their pre-competition preparations.

Those who placed in the top five are qualified to continue onto the HOSA State competition, which was held on Sunday, March 19th.

"The students who did place first, or the ones going, will bestaying after school to practice their skills again and make sure they're ready for the state competition level," explained Ms. Crompton.