One for the Lover & One for the Dollar
Valentine's Day Is Back Again
Valentine's Day has been a staple in history for centuries, while most associate it with love and monetary purchases for their loved one; there is much more to this than what's taught from misconceptions and folk tales. Valentine's Day is a holiday that can be traced back to Roman Martyrology. A gap in the world's knowledge, because of the lack of documentation, leaves most at a standstill. Furthermore, this gap leaves a major hole in the explanation of who Saint Valentine truly was. The failure to document such events has left the possibility of there being more than one true Saint Valentine's story.
What are the miscommunications and misunderstandings of the holiday that is Valentine's Day? The origins of the holiday stemmed from a feast commemorating Saint Valentine on February 14th, recorded by the 8th-century Gelasian Sacramentary. The misconceptions would start around the 14th to 15th centuries when the notions of "courtly love" had flourished due to an association with the lovebirds in early spring. The misguided youth would continue to spread this false narrative, when in the 18th century, English couples would express their love by offering flowers, confectionery, and sending greeting cards to their lover– resembling today's Valentines. Valentine's cards were pushed even more since the 19th century, in Italy, when handwritten valentines caused the mass production of greeting cards, along with Saint Valentine's keys that were given to lovers as a romantic gesture. Children were also given this token to ward off epilepsy, caused by Saint Valentine's "Malady". All of these events would go on to start, not only a holiday, but a misinterpretation of the story of Saint Valentine.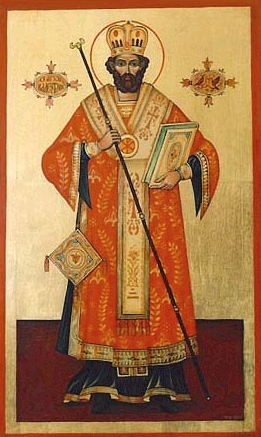 The first story about who possibly could've been the true Saint Valentine starts around AD270 in Rome during the persecution of Emperor Claudius Gothicus. Gothicus was a Roman priest invited to meet with the emperor due to being well known for his sanctity. The Emperor offered him friendship along with the remark that he should adore the gods, but Valentine thought differently, rather inclined to remark on the waste of time it would be to worship gods. He believed Jesus Christ had, "brought the only true hope and the promise of a better world.". The Emperor, being impressed by his faith, entrusted him to a nobleman named Asterius, whose job was to convert him using "mellifluous arguments". Asterius had a daughter that had been blind since the age of two, but Valentine would begin to pray over her, to everyone's surprise, she had regained her sight. When faced with this miracle, the nobleman decided to convert himself and his family to Christianity. The Emperor heard of Valentine's deed and had him condemned to be beheaded. The execution would take place in Via Flaminia in Rome, his body would be buried nearby, and later on, a church in his honor would soon be built there.
The second story takes place around 70 years later and revolves around the Bishop of Terni. In Rome there was a rhetorician and philosopher named Crato, a teacher of Latin and Greek. He had a son, Chaeremon, who was forced to keep his head between his knees due to a physical deformity; no doctor had been capable of healing his son. Crato begged Valentine and offered half of his possessions to heal his son. After a long night's conversation, Valentine would assure him that he was not the one that would heal him and only his faith in the one true God could. Valentine then prayed over the boy and he ended up regaining his health. This inspired Crato to be baptized by the bishop along with three Greek students Proculus, Ephebus, and Apollonius. Abbondius, son of the perfect Rome, Furious Placidus would also convert to Christianity. Placidus held office between 346-347AD, the date that is associated with Valentine's martyrdom. Placidus, devastated by his son's conversion to Christianity, would have Valentine arrested and decapitated on the Via Flaminia in Rome. They executed him at night to avoid the Christian component in the city. After a quick burial at the site of his martyrdom, Proculus, Ephebus, and Apollonius would go on to carry his body to Terni where they buried him just outside the city. In Terni, Lucentius, the Consul arrested all three and had them beheaded before the populace could free them. When found out, the people would end up burying the martyrs together with Valentine.
To wrap up the Saint Valentine conundrum, simply put, this story will most likely never have an exact truth to it because there's no way of currently fact-checking either story. The double-edged sword indicates the possibility of both of these events happening because of the separation of time between the two, along with the fact that Saint Valentine is a title, not a name which can cause two different men to share it. Although either of these possibilities could be true, it's probably best not to lose sleep over its true origin because the probability of it being discovered is close to none. Perhaps it would be best to ride the wave with this one and wait until more evidence comes out about Saint Valentine's, if any shred of evidence is actually ever found.
Sources:
St. Valentin – Information on the Saint of the Day – Vatican News
Valentine's Day – Wikipedia
Saint Valentine – The origin of Valentine's Day – The Researcher's Gateway
St. Valentine – Saints & Angels – Catholic Online