Deep Fried Reviews: Margherita Pizza
Cafe' On Main is a Student-Run Restaurant at ACIT
The Cafe' on Main remains one of the biggest mysteries at ACIT, as the students are unable to order from the menu and many faculty members either bring their own meals or are simply too busy to stop and eat. Cafe' on Main is a student-run restaurant located across from the main entrance and next to the Performing Arts Center that processes orders from faculty inside ACIT and members of the Special Services office down the street. Many local businesses will call and order pick-up throughout the school year.
The Cafe' is open from 7:45am until 11am for breakfast and from 11am until 1:30pm for lunch. The hours are modified for dine-in, pick-up and in-school deliveries. Breakfast options include bagels, burritos and various other sandwiches, including a New Jersey staple, the Pork Roll and Cheese, also known as "The Taylor". A creative and seasonal beverage menu became the craze during the winter months as flavored teas, coffees and lattes were added.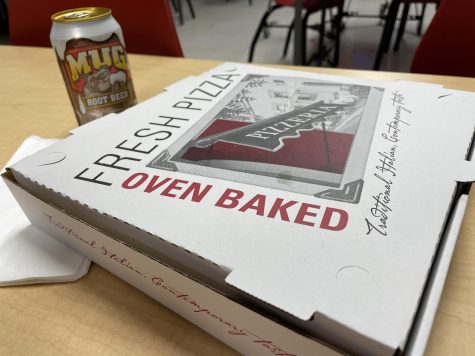 Lunch is an important meal in the middle of the day and the Cafe' does not disappoint. Salads, soups, hand-cut fries, tacos, a few entrees and a short list of sandwiches make up the lunch menu. We were able to speak to someone who recently enjoyed a homemade Artisan pizza for lunch, ACIT's Media Production and Digital Storytelling instructor, Mr. Brian Lacivita. He mentioned that he tries to order from the restaurant once every week or so to support the students and sample some of their tasty work.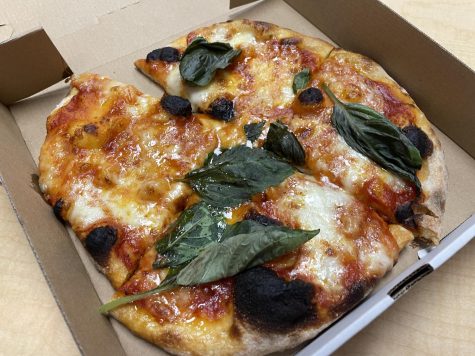 The only case where he was even "slightly disappointed" was with two pizza orders, which he described as "tasty in the middle, but way overdone on the ends to the point the crush was inedible". Luckily, during his most recent pizza order – which happened to be the same day we interviewed him for this article – he was thrilled by every aspect of his meal. "The sauce had a little heat to it, the basil complimented the flavors and added some color. Also, the crust was crunchy and delicious."
To close the interview, I asked Mr. Lacivita why he orders from the Cafe' despite packing lunch most days and experiencing a few less than ideal meals. "I understand the true purpose of the Cafe', which is to give the students a real-world opportunity to work with customers and make dishes to meet a specific deadline or pickup time. I also know that these cooks are learning all of these skills and techniques that can take years to perfect, and it's still better than half the restaurants I normally eat it. If I quit the Cafe' after two imperfect pizzas, how am I helping them improve? Today's pizza proves the point, it was so good I ate the whole thing."
To learn more about the Cafe' on Main at ACIT, visit www.acitech.org and click the link for the menu.